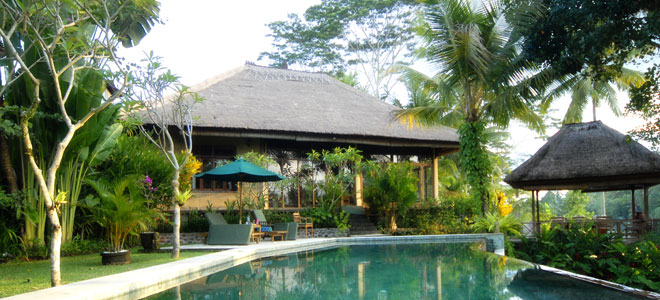 ABOUT THE HOTEL
Villa Samaki Ubud is a stunning three bedroom villa overlooking the dramatic Campuhan River. Surrounded by endless stretch of green, this three bedrooms villa offers harmony and modern comfort in beautiful and tranquil surroundings.
Villa Samaki Ubud is renovated with extensive garden with an uninterrupted view to the river valley. The design features classic Balinese style. It offers two bedrooms in the main building and a master bedroom privately set to admire the surroundings. Tastefully decorated the villa is perfectly situated to take in the serenity of its stunning garden.
Covering an area of 4,100 m2, Villa Samaki is set in peaceful setting amid the rice paddies within its own private walled compound. The entrance gate is made in typical Balinese style leads to the main building. It comprises of two air conditioned bedrooms each with en suite bathroom. It is also featuring a spacious living and dining area on the ground floor with glass wall providing view to the garden and a library and TV area on the upper level.
---